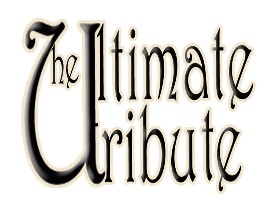 Home . The Full Show . Contact . Links .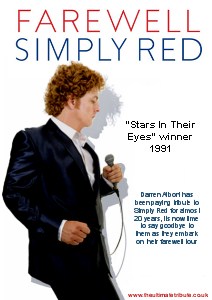 Click on the picture for full size image
A Tribute To Mick Hucknall by Darren Alboni
Darren started performing his tribute to Mick Hucknall in 1991 after appearing on, and winning, his heat in Granada Television's "Stars In Their Eyes". Darrens vocal tribute was hailed as "exceptional" and is often mistaken for the real thing.

For the following two years he toured with his Simply Red tribute band "Wonderland" and performed at every working mans club in the North East of England.
That lead on to travelling the country performing at theme pubs, holiday camps and the cabaret circuit.

Performing live at many venues across the UK and abroad over the years has given him great experience working with every type of audience.
Darren has performed at the Café Royale - London for the Arsenal Football Club at their Championship presentation, and also at The Commodore - Nottingham for Nottingham Forest's Premier League Promotion Celebration.

Darren is quoted to be the NO.1 Mick Hucknall impersonator by the Simply Red Fan Club.

Review byThe Stage Magazine
Published Wednesday 25 March 2009 by Mark Ritchie
The Mick Hucknall impression was quite stunningly accurate
Click below to hear Darren sing:
(New demos coming soon)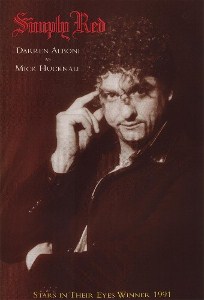 Songs can include
A New Flame
Aint That A Lot Of Love
Every Time We Say Goodbye
Fairground
For Your Babies
Holding Back The Years
If You Don't Know Me By Now
Its Only Love
Moneys Too Tight
Never Never Love
Night Nurse
Say You Love Me
Something Got Me Started
Stars
Sunrise
The Air That I Breathe
The Right Thing
Videos

Stars in Their Eyes heat 1991

Darren on Help I Need A Wedding Entertainer April 09 (without the wig!)

Costa Blanca 2008
Live Photos
Reviews
The Stage Magazine
Published Wednesday 25 March 2009 by Mark Ritchie
The Mick Hucknall impression was quite stunningly accurate
More about Darren
In 2005 Darren started a very successful Tribute to Elvis Presley
Then in 2009 added Roy Orbison to the show
The show can be purely Simply Red or if you want more variety why not have two or more acts in one night.
If its even more variety you are after, Darren also works with his wife Tania for the full "Ultimate Tribute Show"
All of The Ultimate Tribute shows are available with professional sound and light equipment which is all fully PAT tested and is fully covered by public liability insurance. Click below to download the relevant certifates you need for your venue.
The Ultimate Tribute PAT certificate.
Tanias PLI certificate.
Darrens PLI certificate.
Background and party music is always available and can be played before and in the interval of shows if required.
If you would like to save money on a DJ and require music to played after the show, that is also possible for a small additional charge, depending on how long you wish the music to go on for. It is also possible to have your own MP3 player or laptop plugged into the system, so that you can have the exact music you require for your event.

All shows are available with a full band on request.
Both Tania and Darren are registered members of the Musicians Union
With any show Darren & Tania can bring along a professional event photographer, who will set up a studio and lighting area and take photos of all your guests.
They can also be available after her show to pose for photos with your guests.
The photographer will be free of charge. Stunning framed prints will be available to buy on the night.
To see some of the photographers work go to
www.thephotogenic.co.uk
Below are some cutouts that you can make your own poster with,
Click on picture for a large version to appear in a pop up window.