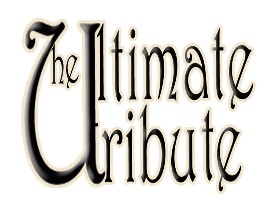 Home . The Full Show . Contact . Links .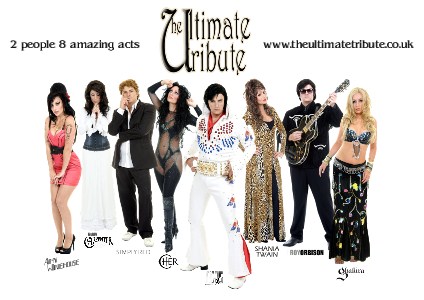 Click on the picture for full size image
The Ultimate Tribute Show is the best nights entertainment and best value for money.
This is a show with both Darren and Tania doing anywhere from 2 to 7 acts in one night.
This show can be programmed in a number of different ways to suit your event. The show that is done most often is as follows.

This show is a two part show (2 hours altogether)
The show starts with the mellow sounds of Karen Carpenter, followed by The Big O, Roy Orbison, then on to country legend Shania Twain. finishing the first set with Simply Reds Mick Hucknall
The Second Part of the show breaks open with Cher followed by the King of Rock and Roll Elvis Presley, Finishing with the amazing Amy Winehouse.
Reviews

The Stage Magazine
Prima Artists showcase
Published Wednesday 25 March 2009 by Mark Ritchie
Tribute artistes Darren and Tania Alboni presented a segment of their two hour Ultimate Tribute Show, with a glimpse of their Amy Winehouse and Mick Hucknall impressions. If this rest of the show is up to this standard, then surely lucrative cruise ship work would seem to be assured. The vocal quality and the sincerity of the impressions will surely make this a superior addition to the tribute market. The sound-alike quality - in particular the Mick Hucknall - impression was quite stunningly accurate
All of The Ultimate Tribute shows are available with professional sound and light equipment which is all fully PAT tested and is fully covered by public liability insurance. Click below to download the relevant certifates you need for your venue.
The Ultimate TributePAT certificate.
Tanias PLI certificate.
Darrens PLI certificate.

Background and party music is always available and can be played before and in the interval of shows if required.
If you would like to save money on a DJ and require music to played after the show, that is also possible for a small additional charge, depending on how long you wish the music to go on for. It is also possible to have your own MP3 player or laptop plugged into the system, so that you can have the exact music you require for your event.
All shows are available with a full band on request.
Both Tania and Darren are registered members of the Musicians Union
With any show Darren & Tania can bring along a professional event photographer, who will set up a studio and lighting area and take photos of all your guests.
They can also be available after her show to pose for photos with your guests.
The photographer will be free of charge. Stunning framed prints will be available to buy on the night.
To see some of the photographers work go to
www.thephotogenic.co.uk
Below are some cutouts that you can make your own poster with, using the acts you have chosen
Click on the pictures for a large versions to appear in a pop up window.